QoA Streaming Mass

To view a collection of all recent masses, please click on the following link: Click Here

Palm Sunday

    It was on the first Palm Sunday of long ago that Our Lord entered into the city of Jerusalem in order to redeem us by His death upon the Cross.  But before the sufferings and humiliations of Christ's Sacred Passion began, the Heavenly Father willed to publicly glorify His only-begotten Son before the populace.  The emotional display of the multitude, though only superficial, would proclaim Jesus as the long-awaited Messiah.
 
The outward signs of the elaborate display would all be of particular significance.  Christ was first seen entering Jerusalem riding upon a donkey.  The people of the Middle East regarded the donkey as a noble animal.  This is confirmed by Sacred Scripture.  It was the beast of Hebrew royalty as both King David and Solomon rode upon them.  The Judges or Jewish rulers of the Old Testament also rode upon them.

Scripture tells us that Jesus first rode upon a donkey.  The Fathers of the Church teach that this signified the Jews who were accustomed to the burden of the Law.  During His triumphant procession, Our Lord changed to a colt who had never been ridden before.  The colt represented the Gentiles who did not know the Law.

The palm branches signified His victory over Satan.  The olives branches represented the outpouring of His grace.  The garments spread under Christ's feet, which were the mantles worn over tunics, signified detachment from worldly possessions.  The custom of covering the roads and streets with branches of trees when great personages passed along was a mark of great honor and respect peculiar to the Middle East. 

The acclamations on Palm Sunday were sincere at the time, but, because the people were responding to the momentary emotion of the crowd, they had no depth of heart.  Since there was no foundation for all the praise and adulation of the group who claimed to love and revere Christ amid their Hosannas, it would be only a few days later that they would be filled with hatred and would curse and blaspheme Jesus as He painfully carried His heavy Cross to Calvary.  This teaches us to not trust the world that covers one with praises and adulation one moment, but which turns without warning to hold the same in contempt.

More than five hundred years before Christ, the prophet Zacharias had foretold the glorious Palm Sunday procession, saying, "Rejoice greatly, O daughter of Sion, shout for gladness, O daughter of Jerusalem.  Behold thy king comes to thee, just and victorious, humble and riding upon an ass, and on a colt." 

In his Life of Christ, Bishop Fulton Sheen has written, "The prophecy came from God through a prophet, and now the Son of God Himself was bringing it to fulfillment.  The prophecy of Zacharias was meant to contrast the majesty and the humility of the Savior.  As one looks at the ancient… [sculptures] of Assyria and Babylon, the murals of Egypt, the tombs of the Persians… [and the monuments of the Romans,] one is struck by the majesty of kings riding in triumph on horses or in chariots, sometimes over the prostrate bodies of their foes."

"In contrast to this, here is One Who comes triumphant upon a donkey.  How [Pontius] Pilate, if he was looking out of his fortress that Sunday [with the eyes of the world] must have been amused by the… spectacle of a man being proclaimed as a King, and yet seated on a… [donkey.]  If He had entered into the city with regal pomp in the manner of conquerers, He would have given occasion to believe that He was a political Messias.  But the circumstances He chose validated His claim that His Kingdom was not of this world.  There is no suggestion that [Christ the] King was a rival of Caesar."  (pp. 274-275.) 

Amidst such praise, Christ displayed no pride, but humbly accepted all.  Humility is the unmistakable sign of a true follower of Christ.  Pride is the most serious obstacle to God's grace. 

It blinds and deceives us so that we rationalize or excuse our sins.  Pride is one of the worst sins because it encompasses all other sins.  Because it is such a deadly sin, we must cut pride out of our lives like a cancer and practice humility.  St. Peter said, "God resists the proud, but gives grace to the humble." (2 Peter 5: 5.)  If you want to be holy, be humble.  If you want to be very holy, be very humble.

By the light of God's grace, we must recognize our nothingness, misery, and total dependence upon God.  Since without God we can do nothing, we must mistrust ourselves and not rely on our own strength alone.   St. Peter denied Our Lord because he was presumptuous and relied only on his own bravado.  Only the humble will persevere.
               
Although Christ's "entry into Jerusalem has been called triumphant, He well knew that 'Hosannas' would change to 'Crucify,' and palms would be turned into spears.  Amid the shouts of the multitude He could hear the whispers of Judas and the angry voices before Pilate's palace.  The throne to which He was hailed was a Cross, and His real coronation would be a crucifixion." 

"Garments aplenty beneath His feet today, but on Friday He would… [be stripped] of His own.  From the very beginning He knew what was in the heart of man, and never once did He suggest that the Redemption of men's souls could be accomplished by… [words alone.]  Though He was a King, and though they now admitted Him as their King and Lord, He knew the King's welcome which awaited Him was to be Calvary."

"Tears were in His eyes, not because of the Cross which awaited Him, but because of the woes impending over those whom He came to save and would have none of Him… 'And when He drew near and saw the city He wept over it saying, 'If thou hadst known, in this thy day, even thou, the things that are for thy peace!  But now they are hidden from thy eyes.'  He saw with historical accuracy the descent of the forces of Titus, and yet the eyes that saw the future so clearly were almost blinded with tears.  He spoke of Himself as willing and able to have averted that doom by gathering the guilty ones under His wing as the hen doth gather chickens, but they would not [have it.]"

"He looked beyond His own sufferings and fixed His eyes on the city that rejected Love.  To see evil, and to be unable to remedy it because of human perversity, is the greatest anguish of all.  To see the wickedness and to be baffled by the waywardness of the evildoer is enough to break a heart.  The father is cast down with anguish when he sees the wrong-doing of his son.  What prompted His tears were the eyes… [of those who] would not see and the ears that would not hear [His truths.]"   (Sheen, 276-277.)

Prayer to St. Joseph:
O glorious St. Joseph, thou who, on the word of the angel speaking to thee in the night, put fear aside to take thy Virgin Bride into thy home, show thyself today as my advocate and protector. Guardian of the Christ Child, defend me against every attack of the enemy, preserve me from the dangers that surround me on every side. Stand by when accused, stretch out they hand when I am tempted, comfort me when I am fearful, forsake me not when I am weak.

In thee God has given to me a model of faith, of obedience in adversity, of chastity in the midst of evil, and of hope in the uncertainty of these times, Thou art the terror of demons and the healer of those who fight the spiritual combat. Come, then to my defense. Keep me under thy gracious protection. Amen.


Queen of Angels Catholic Church in Santa Clarita, California, is much like any Catholic church you might have attended before the Second Vatican Council occurred in the 1960's. This Council, supposedly intended to bring about a genuine spiritual renewal in the living of our Faith, inaugurated liturgical changes that broke drastically from the Church's sacred liturgy and traditions of nearly 2,000 years. It is because of these changes and the resultant universal loss of faith among so many bishops, priests, nuns and laity, that Queen of Angels and chapels like this one are drawing more and more interest from concerned Catholics all over the world.

The pastor of Queen of Angels is Father Dominic Radecki, CMRI, a priest belonging to the religious Congregation of Mary Immaculate Queen . The bishop and priests of the Congregation of Mary Immaculate Queen (CMRI) offer only the Tridentine Latin Mass in all the churches and chapels they serve. Remaining faithful to all of the Church's venerable teachings and traditions, Queen of Angels Church reflects the stability and endurance of truths and doctrines that will never change with the times.

The faithful receive Holy Communion on their tongues as they kneel at the communion rail in humble adoration of the Real Presence of God. Ladies wear head coverings and modest clothing out of respect. The reverent silence in the House of God indicates a living faith in Christ Who dwells in the tabernacle.

We have a full schedule of activities at our church. The Sacraments are administered exactly the way they were before Vatican II: Baptism, Confirmation, Penance, the Holy Eucharist, Matrimony and Extreme Unction. Parish organizations who attend Queen of Angels, ranging from basic catechism instruction for the youth and converts to the Faith, to our Confraternity of Christian Mothers. For those who wish to lead a more dedicated spiritual life, we have the Confraternity of Mary Immaculate Queen. We invite you to check out all of our parish activities on this website.

We at Queen of Angels welcome visitors to our parish at anytime of the year, but especially at Christmas and Easter. Although the number of parishioners has outgrown our small church, newcomers are always welcome.

Each of our parishioners adds something unique to the family atmosphere we think is very special here at our church. Come and see it for yourself! If you have not been to a Latin Mass in many years, if you have never been to one at all, you will be pleasantly surprised at what you find at Queen of Angels. You will feel as if you have come home, as indeed you have.


Queen of Angels Catholic Church



Prayer to the August Queen of Heaven

August Queen of Heaven, Sovereign Mistress of the Angels, who didst receive from the beginning the mission and the power to crush the serpent's head, we beseech thee to send thy holy angels, that under thy command and by thy power they may pursue the evil spirits, encounter them on every side, resist their bold attacks, and drive them hence into the abyss of woe.

Most holy Mother, send thy angels to defend us and to drive the cruel enemy from us.

All ye holy Angels and Archangels, keep and defend us. Amen

O good and tender Mother Thou shalt ever be our love and our hope.

Holy Angels and Archangels, keep and defend us. Amen



Novena of Confidence
to the Sacred Heart of Jesus
(for family relations that have fallen away)

O Lord Jesus Christ, to Thy Most Sacred Heart I confide this intention (silently mention here the names you are praying for). Only look upon me, then do what Thy Heart inspires. Let Thy Sacred Heart decide. I count on it. I trust in it. I throw myself on its mercy, Lord Jesus! Thou wilt not fail me.

Sacred Heart of Jesus, I trust in Thee.

Sacred Heart of Jesus, I believe in Thy love for me.

Sacred Heart of Jesus, Thy Kingdom come!

O Sacred Heart of Jesus, I have asked Thee for many favors, but I earnestly implore this one. Take it, place it in Thy open, broken Heart, and when the Eternal Father looks upon it, covered with Thy Precious Blood, He will not refuse it.s It will no longer be my prayer but Thine, O Sacred Heart of Jesus. O Sacred Heart of Jesus, I place my trust in Thee. Let me never be confounded. Amen.












May Crowning


Queen of Angels Easter


Queen of Angels Altar


Queen of Angels May Procession


May Crowning



Prayer

The time may be delayed, the manner may be unexpected, but the answer is sure to come.

Not a tear of sacred sorrow, not a breath of holy desire poured out to God will ever be lost, but in God's own time and way will be wafted back again in clouds of mercy and fall in showers of blessings on you and on those for whom you pray.

Weekly Sermons

Latest Sermon: click_here


List of Previous Sermons: click_here


General Information

Baptisms: One parent and the sponsors must be practicing Catholics who attend only the Traditional Latin Mass. Call the pastor to make arrangements.

Confessions:
Sundays - one hour before Mass. Weekdays - 10 minutes before Mass.
1st Friday and 1st Saturday - during the Rosary.

Communion for the Sick:
Inform Father if you are unable to attend Mass and wish to receive Holy Communion and/or Extreme Unction.

Marriages
For registered members of Queen of Angels parish only. Please contact the rectory at least six months prior to the wedding date for marriage instructions.

Mass Intentions:
If you would like to have Holy Mass offered for your intention, please use the envelopes provided in the back of the church. The customary offering is $25.00. Mass requests are honored in the order in which they are received. If you wish a Mass offered on a particular day, it must be submitted at least a month in advance. Mass requests for special days will be honored when possible.

First Holy Communion Classes:
Classes are held every Sunday at 9:30 AM.

Confirmation Classes:
For the children: on the first and third Sunday of the month at 9:30 AM.
For the adults: on the second and fourth Sunday of the month at 9:30 AM.

Prayers For Rain

O God, in Whom we live, move and have our being, grant us seasonable rain, so that our temporal needs being sufficiently supplied, we may seek with greater confidence after things eternal.

Be appeased, we beseech Thee, O Lord, by the gifts which we offer, and garnt us in season the blessing of sufficient rain.

Grant us, we beseech Thee, O Lord, beneficial rain and deign to pour out showers from Heaven upon the parched face of the earth. Through Our Lord Jesus Christ, Thy Son, Who liveth and reigneth with Thee in the unity of the Holy Ghost. God, world without end. Amen

First Communion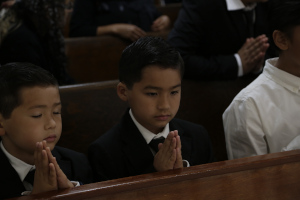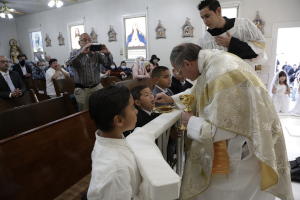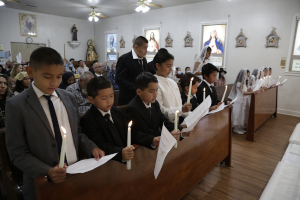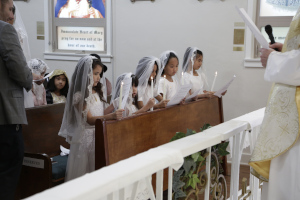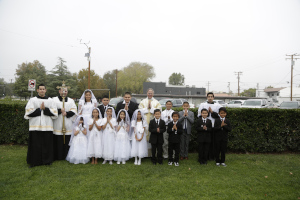 Confirmation